Web links
If you want one-on-one tutoring in a residential writing studio in the Dordogne, check out www.writinginfrance.com
short-story.net is free to join and use; upload your stories to be commented upon, and comment upon other stories.
Ladder Writers is a creative writing website that works on a point-based system. The more points you have, the higher your level and the more chances to get paid. You get points for signing up, entering contests, winning contests etc. Once you have a certain amount, you will become a critter, and be sent competition entries to critique. Each critique earns you 50p. When you get to a higher level you'll get 70p per critique. Even higher than that, you receive £1 for every competition story you read.
WriteVoice is a writers' site that is free to members and includes author profiles, a critique service, interactive writing exercises and competitions.
Fancy a 50-word story in your inbox every other day? A new blog aims to do just that - simply subscribe. These micro-stories are intended to 'entertain and stimulate in bite sized morsels'. Or go to www.paragraphplanet.com and leave (or read) a 75-word paragraph.
Another regular dose of storytelling can be found at www.thedailytale.com. All you have to do is comment on the stories you read.
The Word Cloud is a site where writers can read each other's work, offer comments and get feedback. It's also a place where you can upload a personal profile, and network with fellow writers, agents, and other booky kind of people. You will be able to discuss books, scripts and writing in our forums. You can blog your thoughts, keep an eye on upcoming literary events, and much more. Membership is free.
The stories on Spoken Ink are about 30 minutes in length and well-suited to people who haven't time for a six-hour novel. Launch audiobooks include collections from best-selling authors Ian McEwan, Clive Barker, Margaret Atwood, Angela Carter, Haruki Murakami and Peter Carey alongside a number of up-and-coming writers.
thecadaverine is a webzine and publishing press publishing the best new writing by new writers under the age of 25 in the UK. It is 'devoted to publishing the best new writing from the likes of Foyle Young Poets, Creative Writing students from across the students and people with no artistic background who just have talent.'
Profwriting.com is a new online network for writers looking to brush up their skills, showcase work and have it critiqued by peers and experts. Their expertise has grown out of the MA in Professional Writing, which they run at University College Falmouth.
Here's an interesting idea: a website for women travellers who want to share their travel experiences in micro and short stories. Go to www.diversetraveller.com to find out more (or contribute).
www.shortbreadstories.com is a non-profit organisation based in Scotland aimed at encouraging literacy throughout the country. By using their website, authors are able to present their stories to a global audience and members are able to access a global collection of both audio and text short stories.
www.2000wordstory.com is a website designed to give would-be writers an opportunity to have their work displayed on the web. Stories can be of any genre and style but must be between 1000 and 2000 words in length.
www.storyinliteraryfiction.com is a website that is an educational resource for writers.
www.slapastory.com is a short story social network. Submit your writing and comment on others' work.
The One Million Stories Creative Writing Project wants to collect and publish a million short stories in a single series, becoming a movement - nay, a phenomenon - in the process. Visit their website for terms and conditions on how to submit your (500-word max) story.
Short Story Library accepts submissions all year round.
Inside Out aims to promote the use of creativity for personal development. It encourages the submission and publication of work with a focus on self-awareness and self-help – 'because sometimes, simply owning something on the page is all it takes to move past it and move on, for both reader and writer.'
David Deacon writes short stories that 'take from two to ten minutes to read'. Find them on his website www.short-stories-site.com
Storyfeedback.com is dedicated to providing detailed feedback for short stories for a fee ( for a 2,000-word story it is £5). As part of this service, writers can choose to have their stories put up on the website so that they can get feedback from the general public.
Horror writers now have a home on the web as well. Go to Horror Writers UK to find out more.
The Story Library publishes true stories online.
InkProvoking.com is updated on a daily basis with new creative writing prompts.
Have a look at www.alexanderbecquer.com for an American slant on what makes a great short story.
The Short Fiction website allows authors to edit their stories once they have been uploaded onto the site. Stories are rated by other users and feedback is given anonymously. No fees are charged.
Shortstorywiki.com is 'the home for creative and twisted minds that have too much spare time on their hands and nothing else to do with it.' Visit the site to read short stories in Swedish and English.
The Fiction on the Web website has a section containing tips for short story writers, as well as a resources page and hundreds of short stories available to read.
Edit Red is an online writing community: upload your work, workshop it with your trusted reader group and get it out there.
Bubbly Jock is another ...
... as is NovelMaker.com
Earlyworks Press offers an online workshop dedicated to developing and polishing short stories.
In the Write Light offer creative writing workshops on the Costa de la Luz, Spain. They also have lovely photos on their website.
Can't get published? icantgetpublished.com
The Community Writing Club will - for a small fee - upload up to 20 pages of your writing onto its website.
The Writers Workshop uses published writers to offer detailed critical advice to short story and other writers. The service is fee-based. Visit their website.
Writersbeat is a community of writers that give each other advice. They also run writing competitions.
Lightning Bug is a writing resource for young adult writers intended to be useful to confident literate young writers, and to those less sure of their writing abilities.
The Society of Authors publishes one about copyright issues.
Read and download author Julie Myerson's tips for writers on the Writing Together website.
Read Tobias Hill's online tutorial on the Asham Award website
WritersNet gives writers and publishing professionals the chance to exchange ideas and advice in online forums ...
... and a website called Short Fiction gives readers the chance to enjoy, and comment upon, new writing .
New Storyteller doesn't offer payment for the stories it publishes on its website, but all submissions are considered.
Spread the Word also offers a discussion forum for writers.
Check the British Council website for writing courses.
If your writing is at the well-written manuscript stage, and needs little editing, the Macmillan New Writing Scheme may be for you. No advance will be paid for accepted manuscripts and publicity will be minimal; the author will receive royalties of 20% of sales.
Thinking of writing a short story about atomic theory? SciTalk offers a way for scientists to communicate their expertise and their enthusiasm to writers, and a way for writers to find out about science and how scientists 'work' — through personal contact and meeting face-to-face, not just by email or phone.
www.askaboutwriting.net is an internet resource site for writers of all abilities. It provides general writing news and news of events, competitions, and what's on where, in addition to a growing list of reviewed writer-relevant websites. The site is updated on Saturdays.
Blogs and writer's websites
Tim Jones is a Grimsby-born short story writer living in New Zealand. Transported, his second collection, was longlisted for the 2008 Frank O'Connor Award. Read his blog at timjonesbooks.blogspot.com
Pam Eaves' debut collection of stories Light in the Shade is published by Circaidy Gregory Press. Visit her website for more details.
Paul Badger's website features extracts of short stories from his forthcoming book collections. www.paulbadger.com
Adele Richards is fascinated by short stories and tries to write at least one a week. Read them here.
Short story writer Adam Maxwell's website (www.adammaxwell.com) features free short stories and a short story podcast. He also posts advice for other writers.
A group of writers from north-east England has launched a website to showcase their work. Inkermanwriters.co.uk promotes stories by writers who have attended the creative writing course at Darlington Arts Centre.
Swap writing experiences with short story writer Tania Hershman - and read her blog.
Do the same with Vanessa Gebbie: website and blog
... and Kay Sexton: http://writingneuroses.blogspot.com/
Australian short story writer Margo Lanagan
Into the lowelands: 'original and eccentric fictions for young adults of all ages'
Books
Teaching Creative Writing is a collection of 12 teacher-focused essays written by international experts in the field and edited Graeme Harper. Chapter 1, 'Writing Short Fiction', is by Kate Coles. Other chapters cover novel writing, poetry, scriptwriting, writing for children and more.
Published by Continuum ISBN 0 8264 7727 5
Writing Short Stories by Ailsa Cox (RoutledgeFalmer) ISBN 0 415 30387 7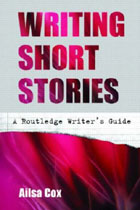 Are you struggling to write a short story? Or keen to try but don't know where to start? Ailsa Cox's guide helps individuals achieve their full potential as short story writers, by encouraging inventiveness and exploring the diversity of the genre. It:
> introduces key aspects of the craft of short story writing, including structure, dialogue, characterization, viewpoint, narrative voice and more
> shows how a wide variety of published writers have approached the short story genre, in order to deepen the insights you gain from your own work
> gets you writing, with a series of original, sometimes challenging but always rewarding exercises, which can be tackled alone or adapted for use in a group includes activities at the end of each chapter
On Writing Short Stories by Thomas Bailey (Oxford University Press) 1999 ISBN 0 19 512272 0
Shaum's Quick Guide to Writing Short Stories by Margaret Lucke (Schaum) 1998 ISBN 0 07 039077 0
Writing Short Stories: The Most Practical Guide by William H Phillips (Syracuse University Press) 2001 ISBN 0 8516 2944 3
Writing Short Stories by Sonia Leach (National Extension College) 1995 ISBN 1 85356 661 6
Writing Short Stories and Articles: How to Get Your Work Published in Newspapers and Magazines by Adele Ramet (How To Books) 2004 ISBN 1 85703 949 1
How to Write Short Short Stories by Stella Whitelaw (Allison & Busby) ISBN 0 7490 0209 3
Creative Writing: How to Unlock Your Imagination, Develop Your Writing Skills and Get Published by Adele Ramet (How To Books) 2004 ISBN 1 85703 975 0
Creating a Twist in the Tale: How to Write Successful Short Stories for Women's Magazines by Adele Ramet (How To Books) 1996
The Way to Write Short Stories by Michael Baldwin (Elm Tree Books) 1996
History of the short story
If you want to read about the history of short stories before you start writing your own, try these:
A Reader's Companion to the Short Story in English edited by Erin Fallon (Greenwood Press) 2000
The Short Story in English by Walter Allen (Oxford University Press) 1982
Modest Art: Survey of the Short Story in English by TO Beachcroft (Oxford University Press) 1968
The Twentieth-century Short Story in English by Giles Gordon (The British Council English Language publications) 1989
Modern English Short Story: A Critical Introduction by Krishna Chaterjee (Minerva Associates (Publication) Pvt Ltd) 1998
VS Pritchett's Introduction to the Oxford Book of Short Stories (Oxford University Press) 1981
AS Byatt's Introduction to the Oxford Book of English Short Stories (Oxford University Press) 2002
Free short stories by the best writers for you to download find out more
The short story form is better suited to the demands of modern life than the novel.

Simon Prosser Publishing Director Hamish Hamilton